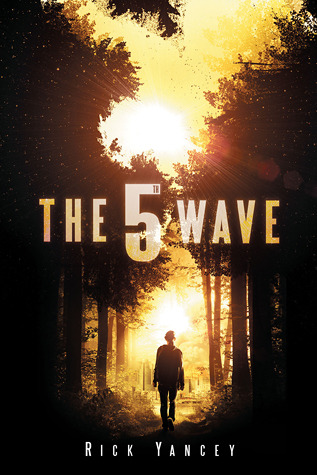 Rating: ☆☆☆☆☆
"So your point is I'm a little worse off than a cockroach. Thanks. I'll work on exactly what kind of disease-carrying pest I am."

Cassie Sullivan

This is one of those books that I'm kicking myself for not reading sooner. Seriously. This is one of the most captivating books I've read in a long time. I'd even go so far as to say it's one of the best books I've read ever. Definitely top 10.
I'm so excited to write this review, so let's get to it, people!
WARNING: spoilers ahead!
Despite this book's similarities to The Host, I really liked it. The writing style was interesting and very easy to read. It's disjointed in some areas, and I really like that. I can really see this book being written by a bunch of teenagers which, in this context, is a very good thing.
It's very obvious that Yancey really thought this through and pieced together the Waves very carefully. It was very cohesive and makes perfect sense. In chapter 10, really showcases this. There's a fantastic quote from Cassie in this chapter: "Time was flowing in reverse. The 1st Wave knocked us back to eighteenth century. The next two slammed us into the Neolithic."
Going off that quote, I'd like to take a moment to appreciate Yancey's astute observations of human behavior. The reaction everyone has to the 1st Wave (freaking out because the electricity has gone out, trying desperately to get their phones and cars working again, assuming the electricity will come back on because it always does), Cassie still brushing her teeth and doing laundry despite being completely isolated in the first part of the book, people constantly waiting for the "People in Charge" to come and save the day (because humans are an inherently hierarchical species and naturally need a leader), and many more examples. I had to look up whether Yancey was a psychologist or anthropologist because his grasp of human behavior is that good.
The characters were really well-written. I like that Cassie was strong and independent even in the face of all the shit she's gone through. Ben was the same way. He made a point not to make the mistake of running again after what happened with his sister. Finding Sammy is what drove Cassie, and Ben's sister's death is what drove him. In the end, they both rescue Sammy and that fulfills Cassie's wish (obviously) but also Ben's because he's now saved someone when he couldn't save his sister.
Evan was an interesting character, and I wish we got more than just one part in his POV. I like that Yancey used the third person past tense perspective for Evan but the first person present tense perspective for everyone else. When Evan explains who/what he is to Cassie, that choice of perspective makes a lot of sense. He's not really Evan Walker. He's an Other living inside Evan Walker. I also wonder what it's like for Evan and the Other to live in the same body. Is it like Wanderer and Melanie in the Host? Is it really like Evan said where they're as one, where it's impossible to tell where one stops and the other begins? I really wish we learned more about him and got a little more inside his head in this book.
The message of this book is amazing. Humanity is much more fragile than we think. These days, humanity thinks we're above nature and that we're the masters of the universe. The Others show otherwise. With 4 attacks, the Others managed to cripple humanity and kill billions. By the start of the 5th wave, humans are turning on each other because they're so paranoid. Who can they trust? Who should they trust? Is the person in front of you really a person or an Other?
What really matters once everything you know is stripped away? Ben is thinking about this in Chapter 56 and says, "By killing us, they showed us the idiocy of stuff. The guy who owned this BMW? He's in the same place as the woman who owned that Kia." In addition to putting our mortality into perspective, Yancey calls to attention how things are determined as valuable. Things only have value because we give them value. Nothing but life itself is inherently valuable, and the people living in the 4th and 5th Wave know that.
The concept of "going Dorothy" was a really good one, and a quote from Ben puts it perfectly: "It is hopeless. It is crazy. Tank is the sane one because he sees it clearly." The Others have set up a society in which people are so brainwashed that people who are sane and see through the lies (like Tank) are deemed crazy and quickly disposed of. After all, the Others would have a harder time dealing with the human race if nobody believed their lies. Instead, they brainwash and indoctrinate enough people that the sane ones are on the outside. They're laughed at and dismissed as "crazy."
I guessed a few of the plot twists, but I think that's just because I was taking extensive notes. If I hadn't been taking notes, I think I would have missed them. One thing I guessed from the beginning was that the military wasn't run by humans anymore. Every time the military personnel talked about the Others, they left their statements intentionally ambiguous. When they talked about infested human beings, they meant literal human beings being the infestation of the planet. When they talked about mapping an alien consciousness, they meant mapping the human brain. When they talked about understanding how the enemy thinks, they meant understanding how humans think.
I would be lying if I didn't have the urge to buy a comprehensive wilderness survival guide after this book. The concept of this book (alien invaders attempting to wipe out humanity) seems like a far-fetched one… but is it really? It would be a lot easier than we think for something like this to happen even if it's not the result of alien attacks. If you ever need a reminder that you're human or an ego check, read this book.
Overall, I thoroughly enjoyed this book and am looking forward to reading the next two!
---
What do you think of my review? Do you agree or disagree with me? Did this book make you think about your own mortality as much as it did me? Let me know in the comments!
Happy reading!